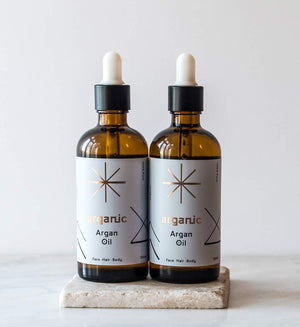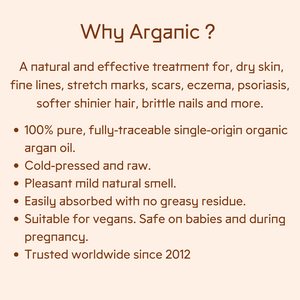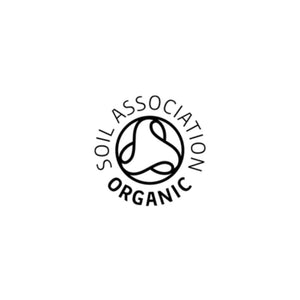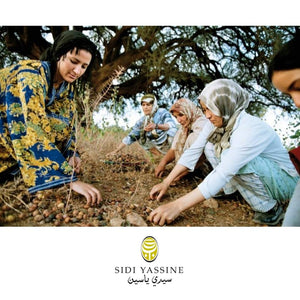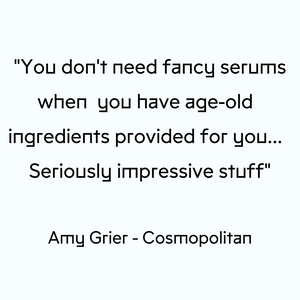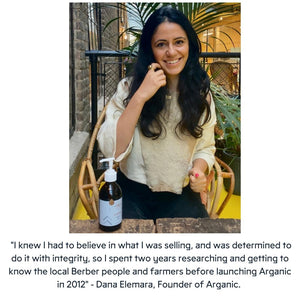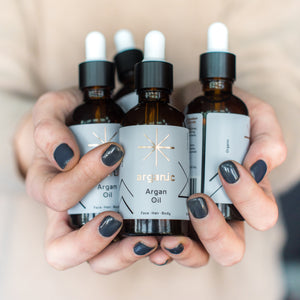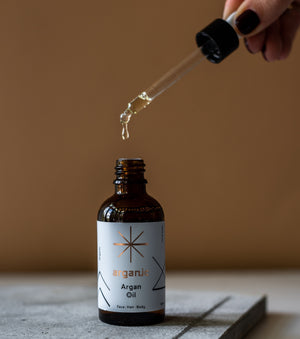 Cosmetic Organic Argan Oil 100ml x 2 (Save £7!).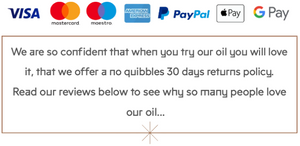 UK Delivery: Royal Mail tracked from £4.50.

International delivery prices vary depending on shipping destination.
Cosmetic argan oil 100ml.
Buy 2 & Save £6 on our 100ml cosmetic argan oil.
Perfect way to share the Arganic love with a friend.
Cosmetic Argan Oil 100ml for face, hair, body. 
One of the most coveted and rarest natural beauty ingredients in the world, argan oil has the richest levels of Vitamin E and cell-rebuilding properties. A natural and effective treatment for; dry skin, fine lines, stretch marks, scars, eczema, psoriasis, softer shinier hair, brittle nails and more. 
100% pure, fully-traceable single-origin organic argan oil. 

Cold-pressed and raw.

Pleasant mild natural smell.

Easily absorbed with no greasy residue.

Suitable for vegans. Safe on babies and during pregnancy.
The Arganic Guarentee
Trusted since 2012 and the only argan oil brand in the UK who name their source on the bottle. Arganic cosmetic argan oil is 100% pure, fully traceable single-origin and superior grade. Raw and cold-pressed, certified organic by the Soil Association. 
The details matter. We only use argan fruit from the healthiest soils and unpolluted areas. We don't work with any middle men and have full control over production. Unlike what is commonplace in the industry, Arganic argan oil is freshly cold-pressed from seeds immediately extracted from the shell, not ones that have been sitting in sacks going stale. (Our culinary oil is lighter in colour than what is typical, because we don't burn the seeds meaning more benefits preserved). 
You will notice that our argan oil doesn't leave a greasy residue and sinks in beautifully (as pure argan oil should). Arganic argan oil doesn't have the unpleasant smell often associated with argan oil. This is because our argan oil is hygienically produced, in particular goats are not involved in the production and our oil is not from several sources mixed together which can lead to rancid oil. 
Check out our FAQ page for any other questions you may have about argan oil here
This is why Arganic is different and the results speak for themselves.
Benefits & How to Use
Extremely rich in vitamin E, reparative and rejuvenating. Argan oil's unique composition leaves the skin looking plumper with a more even skin tone and healthy glow. Regular use on the body will lead to noticeably softer skin. Promotes shinier, smoother and more manageable hair.
How to use;
On Face
Massage a few drops into the face in upwards circular motions. Use as often as you need, as a guideline we recommend twice a day for dry skin and 2-3 times a week at night for oily or combination skin. You can also add a few drops to your moisturisers or serums as a boost, after all argan oil is one of the most popular anti-aging ingredients in the world of cosmetics.
On Hair
Rub a few drops into the hands before transferring into the hair, a little goes a long way. For most hair types we recommend using as a deep conditioning treatment before washing at least once a week. Apply the oil into the roots and scalp and leave in for at least 30 minutes before washing as normal, the longer you leave it in the better. You can also use a few drops in wet hair before styling. Depending on your hair type you can also use Arganic argan oil on dry hair and leave it in almost like you would use a serum.
On Body
For best results massage a few drops onto wet skin after the shower. You can also use it before going out for a lovely sheen on legs and arms. Makes for a perfect massage oil that won't leave a heavy residue.
For skin conditions such as rashes, eczema and psoriasis, apply Arganic directly onto the affected areas as often as needed.
Ingredients
100% Organic Argania Spinosa (Argan) Kernel Oil.
Delivery
UK Shipping: Royal Mail Tracked 2-3 Working Days Delivery £4.50
International shipping: Royal Mail tracked.
Please note: any local import tax charges that may be incurred are the responsibility of the customer.
Perfect product
Arganic's cosmetic organic argan oil is probably the most perfect product. I have been using it on my face, hair and body for many years and nothing compares.
Arganic Cosmetic Oil is fantastic
My skin feels so hydrated. it's not oily and doesn't clog your pores. Brilliant service and quick delivery as well.
New favourite gift for self and others!
I am in love with Arganic. I bought the set in the summer as a gift to my mum.....but in all honesty have been sharing it with her!!! So for Christmas I restocked for us both. The cosmetic oil is not greasy, easily absorbed and a great base for doing facial massage. I have to hold myself back from using it daily, because it's so precious. The culinary oil is delicious - delicately nutty in flavour and goes well with so many salads and vegetables. As a company I love their ethos and they are very efficient, even at a busy time like December! Arganic is now my current favourite thing to gift people - ethical, pure, and good for you inside and out!
Great service and product
I've been given this product before so I knew it was great already. I use it on my hair after showering and leave it to air dry and use it on my face in the morning after using face wash. I also needed help with my order and the service was super friendly and quick. Would definitely recommend!
My 'go to' anti ageing oil
I'm always curious about new anti ageing products. However without fail I go back to Argan oil. I love it! I'm constantly told I don't look my age and I put it down to using Arganic for many years, despite forays into other creams or oils. If I have one criticism it's about the dispenser, which is not great. I actually have a glass push top bottle which I decant this amazing oil into. I use it twice a day at least. I can't recommend this oil enough!