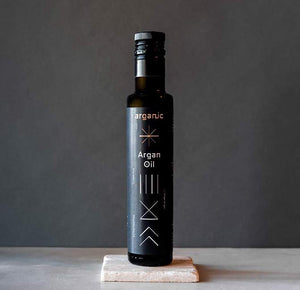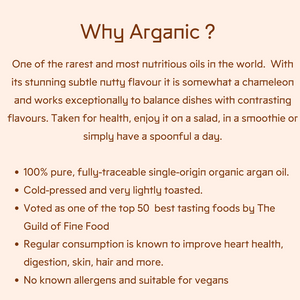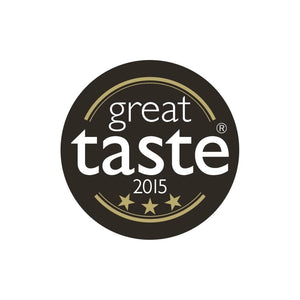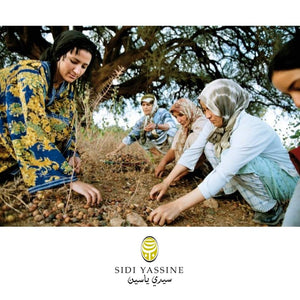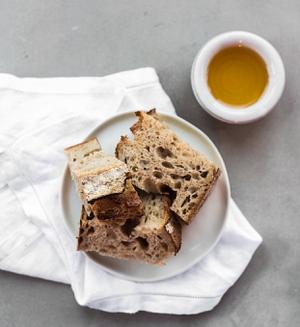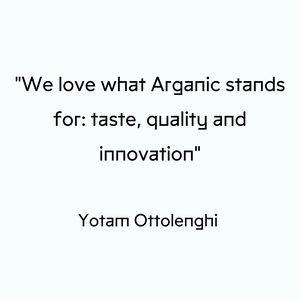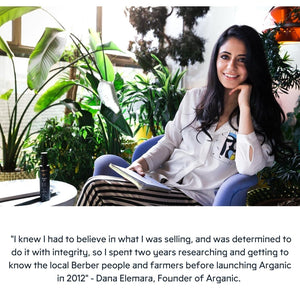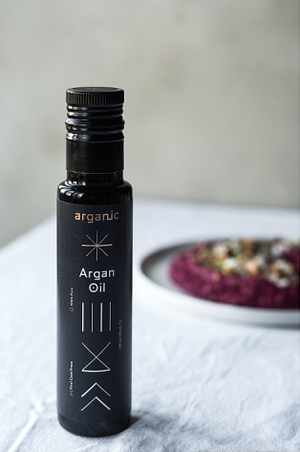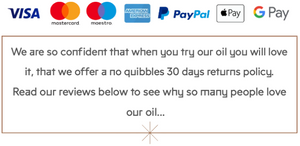 UK Shipping: £6.50. Worldwide Shipping: Europe £15.50 / USA & Canada £25 / Middle East & Asia £45 / Australia £25
Culinary Argan Oil 250ml. Great Tasting, Lightly Toasted and Cold Pressed. For dipping, drizzling or drinking. 
One of the rarest and most nutritious oils in the world. Argan oil has been used for centuries by the Berber people of the South West of Morocco as the main lipid in their diet.  With its stunning subtle nutty flavour it is somewhat a chameleon and works exceptionally to balance dishes with contrasting flavours. Taken for health, enjoy it on a salad, in a smoothie or simply have a spoonful a day.
100% pure, fully-traceable single-origin organic argan oil.

Cold-pressed and very lightly toasted.

Voted as one of the top 50  best tasting foods by The Guild of Fine Food

Regular consumption is known to improve heart health, digestion, skin, hair and more.

No known allergens and suitable for vegans.
The Arganic Guarentee
Trusted since 2012 and the only argan oil brand in the UK who name their source on the bottle. Arganic culinary argan oil is 100% pure, fully traceable single-origin and superior grade. Cold-pressed and produced naturally through regenerative agricultural practices with no chemicals or pesticides. 
The details matter. We only use argan fruit from the healthiest soils and unpolluted areas. We don't work with any middle men and have full control over production. Unlike what is commonplace in the industry Arganic argan oil is freshly cold-pressed from seeds immediately extracted from the shell, not ones that have been sitting in sacks going stale. Our culinary argan oil is lighter in colour than what is typical, because we don't burn the seeds before cold-pressing, meaning more work for us but importantly the benefits are preserved. 
You will notice that our culinary argan oil is very easy to drink, with a silky texture that doesn't feel heavy. Arganic argan oil doesn't have the very strong or rancid flavour sometimes associated with argan oil. This is because our argan oil is hygienically produced, in particular goats are not involved in the production and our oil is not from several sources mixed together which can lead to contamination.
Check out our FAQ page for any other questions you may have about argan oil here
This is why Arganic is different and the flavour speaks for itself.


Benefits & Uses
A rich source of Vitamin E, antioxidants, and good fats, argan oil is scientifically proven to regulate blood sugar levels, lower bad cholesterol, strengthen the immune system and aid digestion when eaten regularly. Arganic argan oil contains 2-3 times the amount of Vitamin E  and antioxidants compared to olive oil.
For optimal health benefits take 1-2 tablespoons a day either directly or enjoy in your meals. Enjoy the beautiful subtle nutty taste and aroma of our culinary oil with a chunk of fresh, juicy bread, in a salad dressing, on porridge mixed with honey, on grilled or steamed vegetables and seafood, and on rice, pasta, and grains.
Ingredients
100% Organic Argania Spinosa (Argan) Kernel Oil.
Delivery
UK Shipping: Royal Mail Tracked 2-3 Working Days Delivery, £6.50.
International Shipping: Royal Mail Tracked and Signed Delivery £15.50 or FREE for orders over £120. Delivery times are approximately 5-7 days for EU and 7-9 days for Rest of World.
Please note: any local import tax charges that may be incurred are the responsibility of the customer.
Hooked!
A user and great appreciator of organic cosmetic argan oil for some years, I decided to try the culinary oil. Wow, I was hooked from the first spoonful, unadulterated and straight from the bottle. I have not felt the need to use it combined with anything else. I have never tasted or enjoyed any oil like it. Nectar! Yes, it's costly, but justifiably so.
Best Culinary Argan Oil
It has mild nutty taste but after taking 1 tablespoon a day I don't have any digestion problems :)
Hi Hissam,
Thank you so much for your kind review. We are very glad to hear that our product has helped with your digestion issues. One tablespoon a day can change a life !
We can't wait for you to continue using our product and are honored to count you as an ambassador of our brand.
Great Product and high quality,
will always keep buying it :)
Nice n nutty
Nutty tasting oil, too early to say if there are any health benefits but it's good to dip fresh bread into or drizzle on a salad etc
Really happy with the argan oil
Great quality oil and very tasty! I love it over goat's cheese and porridge.